It is a sad yet true fact that there are scammers everywhere. People who are more than willing to take money from innocent people and walk away with it, leaving the scammed with nothing. This is of course true for the real estate industry as well, which is why buyers, sellers, renters and investors need to keep their eyes open and be wary.
However, there are also those who wish to conduct legitimate business and are just looking for a good fit for their property. So how can you tell the difference between the scammers and the people who are genuine?
That is exactly what we are going to be talking about. Here, we will share some important tips that can help you find out whether a property transaction is real or a scam.
1. It sounds too good to be true
As the saying goes, if something is too good to be true, it usually is. Let's say you heard about a property for buying or renting that is super affordable, almost too affordable, especially considering the property type, location, etc. When looking for a property, be sure to do your research and find out the general market value of similar properties. If a property is priced at a value considerably lower, it might be a lure. It is best to be wary of these scammers.
2. Unwilling to meet up
Say you are interested in a property and you decide to contact them to set up a meeting to discuss further details. However, when you do so they start making up excuses not to meet and instead push for you to buy the property quickly or charge a booking fee or security deposit. This raises a definite red flag; you should always meet with the owner or registered property agent before buying/renting any property. If they insist on not meeting, then it is most likely a scam.
3. Limited to no photos
Most property owners and landlords will be willing to provide some pictures of the property they plan to sell or rent out. It helps them out since potential tenants/buyers will look carefully at the pictures when deciding if a property is the right fit for them. So if you come across an advertisement with blurry photos or no photos at all, that is a warning sign on its own. It may be that the person advertising is not the owner of the property and is just trying to build a database. Try to avoid such offers/advertisements.
4. Make sure the owner is legitimate
If you are dealing directly with the owner and they are selling or renting out a property from a complex, then you should try to get in touch with the management of the complex and confirm with them who is the owner of the property. The management may not be willing to tell you the name of the owner outright However, they can confirm for you whether the name you were given is the same as the name of the owner on record.
5. Make sure the agent and their company are legitimate
If you are dealing with an agent or negotiator, ask them for their name card as well as which company they work for. Later try contacting the company to make sure they are actually working with them. If it turns out they are unknown to the company, then you should report them to the proper authorities so others do not get scammed.
You should also do some research on the company itself. Make sure it is a legitimate real estate company and not just a name the potential scammer made up for the sake of appearances.
6. Scammers rushed the viewing of the property with you
Let's say you were able to fix up a viewing of the property with the owner or agent. However during the viewing, they either rushed through the property, not letting you stay and inspect, or they refused to let you see certain parts of the property. This is a major warning sign. When viewing a property, be sure to take your time while checking the place. If the owner/agent tries to rush you through it, then it might be reason to suspect the deal.
7. A bad document/agreement
After everything is done and you are given the final agreement, make sure to go through the document carefully. If there is any missing information or if anything seems fishy then it's another reason to be suspicious. Do not put your signature on an incomplete document. If you do that, you risk agreeing to terms that were not initially discussed. Make sure to be vigilant and check for any inconsistencies.
Whenever you're dealing in property, it is important to stay informed and vigilant. Make sure that you deal with people you can trust and with a good reputation. When you do that you can be sure that you have made the right decision with your property transaction.
---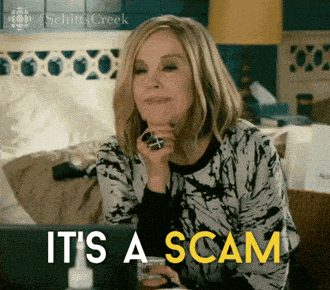 Want to know more about properties and dealing with them? We want to hear from you. 
Liked what you read? Check out this article next: 10 House Buying Hints From Real Estate Agents In Malaysia